Bachelor of Islamic Revealed Knowledge & Heritage
Course Objectives
This programme offers students to have comparative approach in the study of Islamic Heritage, Thought and Other Religions on the basis of Usul al-Din. It fulfills the vision which is to promote the Islamic sciences relevant to contemporary disciplines of study, and the mission which is to develop an Islamically based integrated holistic approach to education and career.
It also offers courses in line with nation's aspirations such as unity among the races, religious harmony, and moderation in contemporary religious discourse. In addition, it meets the needs of global importance such as providing proper understanding of the worldview of Islam and endeavoring to regulate global peace and harmony through an intellectual Islamic discourse with other faiths and ideologies.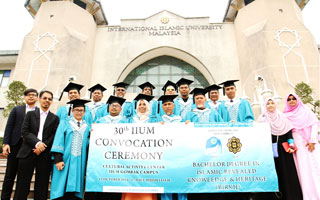 Trimester 1        
January – April
Trimester 2
May – August
Trimester 3
September – December
Duration     
4 academic years
12 trimester
*subject to changes
General Requirements At least FOUR (4) principal passes in the GCE 'O' level obtained at least two sitting with ONE of the following:
Adult with at least 5 years minimum working experience
Pass Pre University 2 in Madrasah Al-Maarif Al-Islamiah or Madrasah Aljunied Al- Islamiah or Madrasah Alsagoff Al-Arabiah or Madrasah Wak Tanjong Al-Islamiah at least Jayyid,
Diploma in Islamic Studies (DPI) PERGAS
Diploma from institutions recognized by the Government of Malaysia and the Senate of the University
Special consideration will be given to candidates who have excellent academic qualifications or relevant experiences by interview session
Language Requirements (as required by IIUM) The medium of instruction is in English. Students who do not possess the minimum language requirement may take up language proficiency courses at the University to fulfill the admission requirement.
Date & Time:
Friday : 6.30PM -10.30PM
Saturday : 2.30PM – 10.00PM
Venue: PERGAS (Wisma Indah)
Application is open all year round. To enroll in a specific intake, please refer to the table below:
| | |
| --- | --- |
| Intake | Application Period |
| January | September to December |
| May | February to April |
| September | June to August |
An Arabic Placement Test will take place before commencement of each intake.
1) Application
All sections of the application form must be completed where applicable. Do remember to check that all the information entered is correct before submission. Supporting documents will have to be submitted together with the application form. Processing of your application may be delayed if any of the supporting documents are missing
Do not submit original certificates and documents with your application. We will not be responsible for damage or loss of original certificates or documents.
2) Application Fee
Cash $150 or crossed cheque directed to 'PERGAS'
* Registration fee is not refundable
3) Application Documents
The application documents must be arranged and submitted in the following order:
1. Hardcopy of the Application Form, signed at the Declaration Section and affixed a Passport-sized photograph on the Application Form
2. Photocopy of your National Registration Identity Card (NRIC)(front and back). If you do not have an NRIC, please provide a copy of your passport information page(s)(containing the passport number, name, etc.)
3. Completed Photo Form
4. Photocopy of Certificates (Master's Degree, Bachelor's Degree, Postgraduate Diploma etc.)
5. Photocopy of Transcripts (Master's Degree, Bachelor's Degree, Postgraduate Diploma etc.)
6. TOEFL / IELTS Score
7. Other relevant Professional Certificates or examination results of relevant individual modules read, etc
Please note that:
A transcript of detailed academic results is required from each university or college attended. The transcript results should show marks (wherever possible) and grades obtained in each module. If a complete transcript is not available, please include a complete photocopied set of examination results for every semester.
Please send your application to:
Pergas
Wisma Indah, 448 Changi Rd 03-01
Singapore 419975
| | | |
| --- | --- | --- |
| Application fee (not refundable) | $150 | Upon application |
| Registration fee | $1,360 | Upon acceptance |
| Recurrent fee | $140 | per year |
| Tuition fee | $1840 | Per trimester |
Who conducts the lecture for the BIRKH program?
They are a team of qualified full-time and part-time international and local scholars or lecturers closely selected and delegated by IIUM
Will candidates from non-Islamic institution eligible to apply?
Yes, candidates who have obtained excellent academic qualifications and relevant working experiences will have to undergo prior assessment and a special interview to ensure their eligibility
What is the minimum number of students in a class?
25 students
Mulakan Pengajian Islam Anda
Atau jika anda ada persoalan, kami mengalukan anda hubungi kami melalui emel, atau telefon 6346 9351 / 6346 9354.
Tekan Butang ini Untuk Daftar